2 Year Old Nursery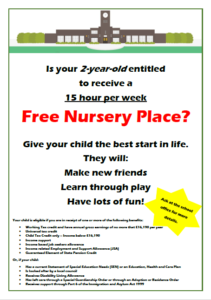 Please find a copy of our Nursery booklet by clicking here
Please find a copy of our Nursery Application Form by clicking here
2-Year-Old Nursery Provision
We offer places in our school Nursery for 2-year-old children who are eligible.
We have a limited number of places on a first come first served basis.
Please contact us as soon as possible so we can try our best to accommodate the session you prefer. We can arrange a visit to nursery prior to your child starting.
Our skilled team of teachers and support staff are dedicated to providing a caring and imaginative learning environment and we aim to work with parents to meet the needs of each child.